Sizing Guide For Law Enforcement Jackets
1. Height
2. Weight
3. Neck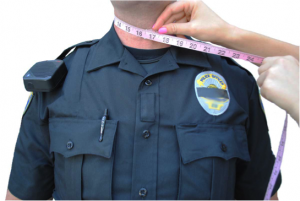 4. Chest (on top of ballistic vest): Do not inhale when measuring chest. Tape measure should be confortable, not tight or loose.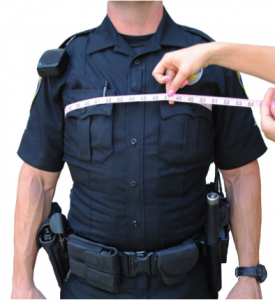 5. Waist (actual): Waist should be measured where you tighten the belt. All measurements should be taken in a relaxed position. Tape should also be comfortable, not tight or loose.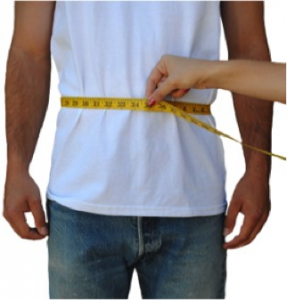 6. Front Length: Front jacket length is based on where you wear your gun belt. While wearing your gun belt, start from the base of the neck as shown, down the front of the jacket to the TOP OF YOUR GUN BELT. NOTE: The measurement you provide will be the actual jacket front length.
7. Sleeve: Measuring a motorcycle jacket alone is not good. Please help to confirm the proper sleeve length by measuring a Dress Shirt Sleeve length as shown below. Also make sure to mention when providing this measurement, that this is a dress shirt sleeve length not a jacket sleeve length measurement, measured as shown in Sizing Detail.
Note: Your dress shirtsleeve measured as shown above should be approximately 1.5″ shorter than the jacket sleeve length measured. Please advise if you ride a sport bike leaning more forward, stretching the arms out further.
8. Shoulder Width: From center back base of the neck (the bony bump at the base of your neck) to directly above armpit crease, not the outside edge of the shoulder.
9. Bicep: Around the largest part of the bicep with arm relaxed.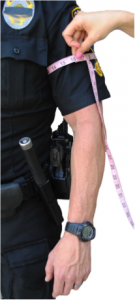 10. Forearm: Largest part of the forearm. Directly below the elbow.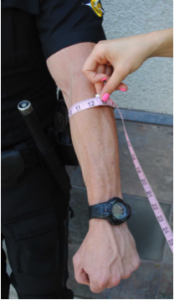 11. Wrist: Around wrist bone.